A tattoo is a form of body modification where a design is made by inserting ink, dyes, and pigments, either indelible or temporary, into the dermis layer of the skin to change the pigment. Tattoos fall into three broad categories: purely decorative (with no specific meaning); symbolic (with a specific meaning pertinent to the wearer); pictorial (a depiction of a specific person or item). Tattoos have historically been regarded in the West as 'uncivilized', and over the last 100 years, the fashion has been associated mainly with sailors, working men, and criminals. By the end of the 20th Century, many Western stigmas of the tattoo culture had been dismissed and the practice has become more acceptable and accessible for people of all trades and levels of society.
Tattoo enthusiasts may refer to tattoos as "ink", "pieces", "skin art", "tattoo art", "tats", or "work"; to the creators as "tattoo artists", "tattooers", or "tattooists"; and to places where they work as "tattoo shops", "tattoo studio", or "tattoo parlors".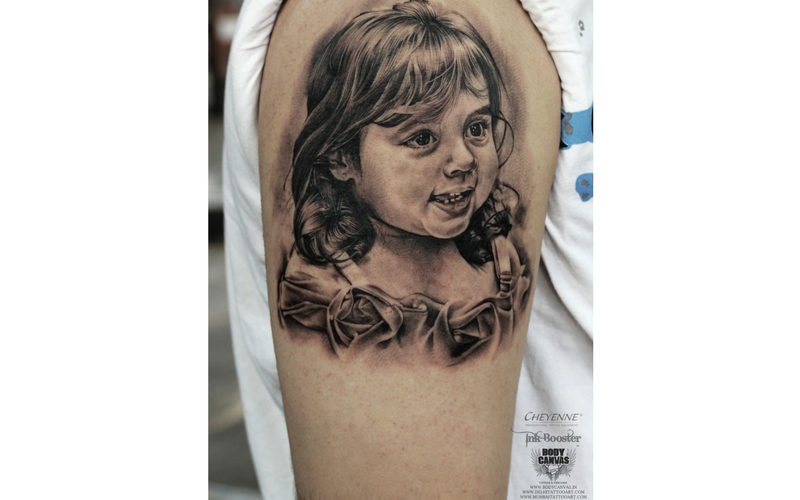 Mainstream art galleries hold exhibitions of both conventional and custom tattoo designs such as Beyond Skin, at the Museum of Croydon. Copyrighted tattoo designs that are mass-produced and sent to tattoo artists are known as "flash", a notable instance of industrial design. Flash sheets are prominently displayed in many tattoo parlors for the purpose of providing both inspiration and ready-made tattoo images to customers.
The American Academy of Dermatology distinguishes five types of tattoos traumatic tattoos, also called "natural tattoos", that result from injuries, especially asphalt from road injuries or pencil lead; amateur tattoos; professional tattoos, both via traditional methods and modern tattoo machines; cosmetic tattoos, also known as "permanent makeup"; and medical tattoos.
While tattoos are considered permanent, it is sometimes possible to remove them, fully or partially, with laser treatments. Typically, black and some colored inks can be removed more completely than inks of other colors. The expense and pain associated with removing tattoos are typically greater than the expense and pain associated with applying them. Pre-laser tattoo removal methods include dermabrasion, salabrasion (scrubbing the skin with salt), cryosurgery, and excision—which is sometimes still used along with skin grafts for larger tattoos. These older methods, however, have been nearly completely replaced by laser removal treatment options.
A temporary tattoo is a non-permanent image on the skin resembling a permanent tattoo. Temporary tattoos can be drawn, painted, airbrushed or needled as a permanent tattoo with an ink which can be dissolved in blood within 6 months of art as a form of body painting.
Source: wikiHow